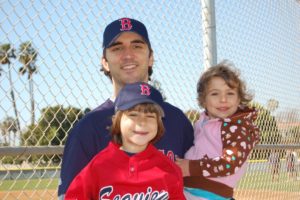 Little League
Two small words…millions of big memories.
You see, this is the last beginning of the last season for my son's little league experience at this storied field in our seaside village.
Recently, I went to a coach's dinner to celebrate the players who would be aging out this year. I sat across from a woman who did not look familiar to me. Upon introduction, I smiled and extended my hand with the common "nice-to-meet-you-for-the-first-time" standard greeting. She quickly nodded her head in recognition and told me that we had, in fact, met before – ouch. I apologized profusely for my loss of memory – even siting that I should probably go to a doctor for my "brain problem" (appointment pending). She kindly re-introduced herself as someone whose child was on my son's T-Ball team back in Spring 2010. Ah yes, a significant year that was. That was when my son became enamored with America's greatest past time and the season my husband got diagnosed.
Of course I didn't "know" her. I don't remember anything from that year except for my husband – a former high school baseball player and lover of the game – excitedly coaching our son's first season, suddenly being late to practices due to his newfound forgetfulness and then subsequent terminal diagnosis two months later.
I hardly remember that year…or the next…or the next. Little league seasons, and teams, came and went. Team moms and dads came fleeting into and, ultimately, out of our lives – many of their faces and names forgotten immediately upon introduction. I do feel bad about this, as I still see many people at the fields looking at me with recognition, and me staring blankly back. These caring people were no doubt comforting me and empathizing with me during that time (or at the very least, they were sitting on the bleachers talking about my family's unfortunate luck).
I also am aware that these well-wishers and curious acquaintances couldn't comprehend our lives during those difficult days. Our world was running a million miles an hour while my mind felt like it stopped in time. I know I blanked out. I believe God sprinkled me with a self-preservation technique to snuff out the white noise that used to consume my day so that I could fully focus on the task at hand. I'm thankful for that, but I do know that there are many important moments lost forever.
Opening ceremonies of this year's spring season brought with it another perfect Southern California day as the teams were announced one by one – each boy excitedly jumped at the chance to take the field one last time as a little leaguer.
As my son ran out on the field for the last time in his little league career, I was unprepared for the overwhelming emotion that swept over me, as tears unexpectedly stained my face.  Memories of our family's journey knocked around persistently inside my head. Baseball. This sport, and specifically this league, had been the one constant in our lives and now we were in the final inning. Like a mental montage, all the amazing people who have circled in and out of our lives paid me a quick visit. The world keeps running at a pace with which I can hardly keep up but now we have come full circle –like a home run hitter enthusiastically rounding the bases, with his face awash in that glorious grin of accomplishment, only to find himself back home again at the end.
I then focused my attention on my daughter, who stood by the dugout, nose pressed up against the fence with her golden sun-kissed hair glittering in the warm breeze of the day. She has accompanied me (sometimes begrudgingly) to many games at these fields but despite her reluctance, has made countless friends on the playground, the bleachers and in line at the snack bar. She looks happy to know the end is near, but what she doesn't know yet, is that she will miss this place.
And then I see my son, who is proudly gathered with his team on the well-manicured fields, hat to his heart, eyes to the flag and many feet taller than he was 6 years ago. There he stands, tall in the Southern California sunlight as his dishwasher blond mop top of hair shines brightly. Instead of swinging at baseballs off the tee dribbling them into foul territory, he now consistently hits line drives over 2nd that bring in runners and earn him singles, doubles and triples – always gunning for that elusive dinger.
His poise and his incredibly humble nature draw team members to him. His quite confidence – which could be mistaken for boredom or disinterest – allows him to concentrate on the next play. He is always watching, strategizing, and learning what needs to be accomplished. His coaches have told me his mental game is acute and his skills at field work show his passion for his craft.
Seeing anyone, specifically my son, have drive for something like this is remarkable, and how we got here is a mystery. I can hardly finish a small DIY project!
I distinctly remember worrying about his trajectory in sports after Scott died. I knew that my son's skills, and his alone, had to be the thing that would deliver him to his own personal field of dreams. He would have to practice, practice and practice harder. It was an unspoken realization, but while, over time, he would have coaches and friends support him through the years, his father would not be around to be his "sports" voice. Let's face it, a woman talking for their son in any sport can be like fire ants duct taped in your ears….you just want them out of your head as quickly as possible! So I've tried not to be too vocal and let his abilities do the talking.
I have always told him to practice what he loves and that any success he has will be because he has proven his skills and earned his position – not because someone has pulled strings for him. I am in awe of his focus and his ambition at such a young age.  He has been unwavering in his love for the game since his dad first started playing catch with him so many years ago.
However, now the season is underway and I sit and watch him make diving catches and swing and hit with newfound strength. It struck me this year how he has learned to be an accomplished baseball player and grown to be a beautiful young man on these little league fields…all taught by men other than his father.  It often makes me sad and simultaneously so proud to see him overcome a seemingly stunning defeat early in his life yet still dedicate himself to concentrating on what he loves. Even though he probably doesn't know it now, he (actually all of us) has been using this love of baseball to get through the rough times.
Many times I have wondered what his life would be like had Scott coached him all these years and whether the hot-blooded "father-son relationship" would have stalled or stoked his passionate fire for his love of the game. I will never know and have no choice but to focus on the fact, that despite my husband's death, good men have surrounded him in his life, those who have influenced him positively on and off the field.
And talking about how life comes full circle, I am now dating my son's coach. A former baseball player himself, he knows exactly how to guide my son with a soft and patient hand, allowing him to develop at his own pace while become the skilled player he needs, and wants, to be. The relationship with these two is so fun to watch and has rekindled the already burning desire in my son to learn the nuances of this challenging sport and to be the best he can be.
Thank you to those who have supported our family and especially my son in his baseball endeavors. These diamonds have been priceless,  despite the rough times, and kept us swinging for the fences even when we were down in the count.  Thanks to all of you, we are finally safe at home.
(Postscript: Since this was written, my son has hit 4 homeruns in 4 consecutive games….he continues to grow in his abilities and love for the game.)